These are just some of the reasons you should start planning a visit to Focus Ranch. There are more and I will mention a few to those of you who are plotting and planning a trip somewhere this spring, summer or fall. Most of our repeat guests book their stay a week to a couple of months in advance while first timers are more apt to reserve 4-6 months out. What does Focus Ranch offer you?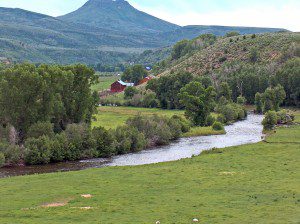 We are off the beaten path so it is a true escape from the humdrum or hectic pace resulting from the demands of everyday life. Remote but accessible whether by car or plane (regional airport-Hayden/Steamboat Springs). The ranch is situated on the Colorado/Wyoming border and provides a wonderful opportunity for weary travelers touring Yellowstone National Park, Grand Canyon or other notable sites, to stay put and actually experience the west.
Focus Ranch is traditional cattle ranch that welcomes guests of all ages. Guest capacity is small which guarantees anactive participation in cattle activities on horseback. Forest pastures (Medicine Bow) and private land for our 1300 head of yearling heifers provide plenty of wide open spaces to ride cross country rather than head to tail. Rides are divided either according to age, skill or length of ride preferred. Wranglers aim to please.
We do accommodate beginners, young children and those who want a gentle ride. We also have some adult weeks only.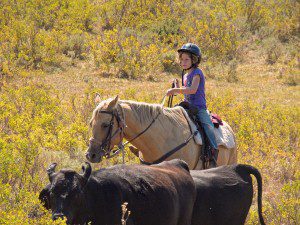 3. The Little Snake River, a blue ribbon fly-fishing stream, offers 4 exclusive miles to become lost in time. There are also other backcountry streams for those who might like a rugged challenge. Guides and gear are available when requested.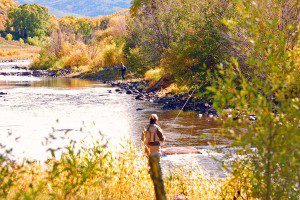 4.The remoteness of the ranch allows wildlife to flourish and to be easily seen in their natural habitat.
Other activities allow for diversity. Hiking is a favorite activity and some can be quite challenging-like climbing Sheep Mountain or a trip to King Solomon Falls. Birding and wildlife viewing go without saying!

Workshops and clinics provide learning opportunities. This summer we will be offering a Ranch and Photography Workshop in June and a Fly Fishing Clinic in July.

7.Time to relax, visit, and play games.  Ranch vacations offer many benefits. Without television, kids and adults revert to group activities like the games in the front yard.

The view from the deck is spectacular and a wonderful place to sit, visit or stare at the surrounding beauty.
Meals are home-cooked from scratch and served with no effort on your part. They are wholesome and with variety to provide choices and balance. We can accommodate most dietary requests.
Accommodations are modest, comfortable and designed to give you a "homey feeling".

Wi-Fi internet access is available for those who want to be remote but may have business or personal reasons to connect.
9.The cost of stay is set before you arrive so you can know exactly how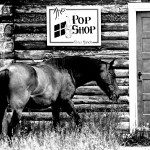 much you will be spending and there are no hidden costs. However, you have the option to buy something from the Gift Shop or Pop Shop. It is really nice to know in advance what lodging, food and activities will cost you for a week as well as gratuity and tax.
10. In Summary, there are more reasons but these are a few of the best. I encourage you to visit the tripadvisor site and see what our guests have written.
http://www.tripadvisor.com/Hotel_Review-g33648-d6208777-Reviews-Focus_Ranch-Slater_Colorado.html
With gasoline prices at an all time low, perhaps this is the summer to take that long overdue road trip and to visit some of the places in Colorado and Wyoming on your bucket list…be sure to include Focus Ranch! You won't regret it when you gaze at the stars and hear the silence.