Plans For The Season
We are proceeding ahead with plans for our 2021 season and will remain open to options as conditions dictate. With the Covid-19 Pandemic still posing challenges, our plans are to run the cattle ranch per ususal. Our yearling cattle our bought and on pastures in California, to be trucked here in May when conditions permit. We are not certain about taking guests this season but are entertaining the possibility of being selective with a few repeat guests and following CDC guidelines to minimize risks to ourselves and our staff. The situation is fluid and we will revise our plans as conditions change, hopefully favorably.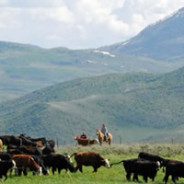 The Makings of a Cattle Roundup: By the middle of May, we will have received our yearling cattle from their winter pasture.  Typically, we have about 1200 head of spayed heifers on pasture in central California. The cattle will be trucked here when we have grass to support them, usually mid-May.
In the springtime when the cattle arrive we work them, which means they are: vaccinated, fly tagged, wormed, some are branded and various other procedures tailored to the individual needs of each animal.
read more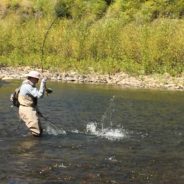 July 7th-13th, 2019
Wayne Beverly will be offering the fly fishing clinic in 2019. Whether you are new to fly fishing or just needing some tips, this clinic is designed to tailor the content to participants' needs -providing practical experience. It covers a broad range of skills-novice to experienced. Those who want a thorough introduction to the sport, will receive hands on instruction. Those who are already proficient, may benefit from his guiding skills.  Topics to be covered include: fly casting techniques; gear; knot tying; trout behavior; water entomology and flies; river anatomy; fishing strategies, catch and release and trout fishing techniques.
read more