The addition of  painting and photography workshops, fly fishing clinic and birding have made a week at the Ranch even better. These activities are offered periodically throughout the seasons and some are available on demand. Flexibility in daily routines allows guests to participate in both the traditional ranch activities and any featured weekly offering.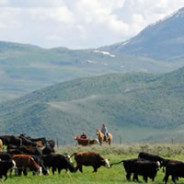 The Makings of a Cattle Roundup: By the middle of May, we will have received our yearling cattle from their winter pasture.  Typically, we have about 1200 head of spayed heifers on pasture in central California. The cattle will be trucked here when we have grass to support them, usually mid-May.
In the springtime when the cattle arrive we work them, which means they are: vaccinated, fly tagged, wormed, some are branded and various other procedures tailored to the individual needs of each animal.
read more