Focus Updates-
2017 In Review & 2018 Plans!
With the 2017 cattle and guest season behind us, we now pause and look back to see where we have been as well as look ahead to see where we are going. Here are some thoughts about 2017 and projections for 2018.
Water: We started 2017 with a snow pack about average and even some nice spring storms to add to the runoff.  However, the cooler weather along with the rain ended abruptly and temperatures warmed suddenly. The reservoir filled nearly to capacity but irrigation needs made quick use of the water. Grass was good but towards the end of the grazing season water shortages proved challenging in many of the forest pastures and even on the private ground. Yet, it all worked out and we now have the horses, cows and calves spending the fall months on the mesa with plenty of water.
Cattle Recap 2017: The great conditions in California due to the wet year allowed our yearling cattle to gain very well. We sold about 800 head of the heaviest in California and made a profit from them. This left us with about 1000 head to run here. These cattle arrived towards the end of May in several shipments and were trailed to forest pastures at the end of May.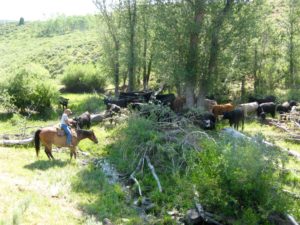 In summary, the cattle weights were good at shipping time. Our death loss was minimal and all the cattle were accounted for…no small task considering the opportunities they had to wander! Many of our guests will recall riding for days looking for the few strays. We shipped 3 different times: 2 days in August and 1 day in late September. We broke even on these cattle. All in all, it was a better year than 2016 but since we lost money in that year, this is a modest improvement.
Our 31 cows delivered a healthy calf crop in 2017. The bull calves outnumbered the heifer calves 18 to 13. Both milk cows calved and the abundance of milk made the weaner pigs-hogs, allowed the kittens to flourish and put weight on the bum lambs….not to mention attracted the skunks at feeding time.
Pregnancy testing scheduled soon and we are hoping for good results.
Guest Season 2017: The highlights of a guest business can be summarized as re-connecting with familiar friends and making new. In 2017, we not only welcomed back many of our regulars but also had The Lowry Family Reunion, a group of 22 with ages ranging from 7 to 70. It was a busy week with yoga and photography sessions, fly fishing clinic, horseback riding, square dancing and some off- ranch excursions. We even had "the steak out" across the river after several years of fire bans in the county prohibiting it.
The Columbine Cabin was also completely renovated. We are happy with the results and our guests have been equally pleased. We now have 3 guest cabins- The Ripple, Mesa and Columbine.
Fly fishing was very good both early and late in the season. The runoff started to subside in late June and the fly fishers enjoyed several weeks of prime conditions. Late season fishing improved with rain/snow showers and subsequent cooler temperatures. It has been a prolonged fall with above normal daytime temperatures but cold nights. It seemed  our peak fall colors were about a week later this year.
After the last fishers left, we began our final phase of the River Restoration Project, begun in 2009. The work is to stabilize the banks and improve the fishing holes. This year's work has added more structures and will make the river better. We anticipate this work to be completed by the end of October.
Cliff Watts will be offering his fly fishing clinic again in 2018…dates to be announced.
Projects Completed in 2017:We all can identify with "to do lists" and the satisfaction that comes with a completed job. This past year we undertook several projects that ranged from top priority to routine maintenance. A few examples:
Built and initiated use of the Hay Shed in the Lower Meadow
Replaced the deck in front of the Ranch House
Renovated the Columbine Cabin including new roof, floor, bathroom, vaulted ceilings, full loft and large deck
Placed a culvert and repaired a large hole in the reservoir ditch in Fletcher Park
Hauled fallen trees from Ethel's Home Place
Participating in a conservation project which includes cleaning up the Middle Meadow willow area of debris and dead vegetation to promote a healthier habitat for birds and wildlife
 Completion of the River Restoration Project
           On The Horizon….2018: 
Pregnancy test cows and heifers in early November
Buying calves for next year
Schedule workshops for 2018
Repair ponds and ditches before winter
Winterize buildings
Overhaul equipment
Laydown Forest Fences
Rewire Quonset Hut and Cow Barn
Repair Concrete Support under Old Bridge
Our guests are the driving force behind the plans we make and the pleasures to be experienced throughout the year. We continue to value our membership in The Dude Ranch Association and feel their endorsement is also meaningful to our guests. We have also appreciated the reviews of our guests on Trip Advisor and encourage you to review us if you haven't already. These reviews are important to first time visitors.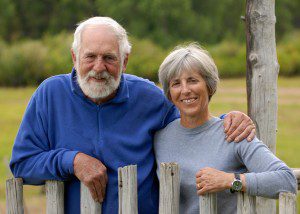 We send you our best wishes for a joyful and peaceful Holiday Season. As always, we enjoy hearing from you and would enjoy even more, seeing you when the snow melts and the grass is green.
Terry and Maureen