Focus Updates-
2018 In Review & 2019 Plans!
With the 2018 cattle and guest season behind us, we now pause and look back to see where we have been as well as look ahead to see where we are going. Here are some thoughts about 2018 and projections for 2019.
Water was the key issue! Conditions in 2018 started with a snow pack below average and very few spring storms to add to the runoff. The snow left the ground quickly resulting in ponds that did not completely fill and then a reservoir that was barely 2/3 full. Irrigation needs made quick use of the water. Grass was good but towards the end of the grazing season water shortages proved challenging in many of the forest pastures and on our private ground. Conditions left us no choice but to ship the majority of our 1300 plus yearlings sooner than we would have liked.
Fishing was also impacted by the prevailing warmer temperatures and low stream flow. It was very good early in the season but the runoff started to subside in mid-June and the daytime temperatures soared and remained warm from late June to September. Fly fishers enjoyed several weeks of prime conditions but then fishing regressed from limited hours in early morning to no fishing at all to reduce stress and harm on the fish. We canceled late season fishing reservations as the water was too low in the river. There were days in August and September when the cubic feet per second (cfs) were recorded at only 9. A normal reading for this time of the year would be 20-35 cfs.
Cattle Recap 2018: The conditions in California allowed our yearling cattle to gain very well. We sold about 400 head of the heaviest in California and made a profit from them. This left us with about 1320 head to run here. These cattle arrived towards the end of May in several shipments and were trailed to forest pastures at the end of May.
In summary, the cattle weights were below normal because of the drought and the shortened grazing period. Our death loss was minimal and all the cattle were accounted for…no small task considering the opportunities they had to wander! Many of our guests will recall riding for days looking for the few strays. We shipped 4 different days in August and 1 day in November. By mid-August nearly all of the cattle were sold and shipped. The final shipment of all cattle was in early November and was comprised of the yearling strays, the culled cows and all 35 calves.
Our cows delivered a healthy calf crop in 2018. The heifer calves outnumbered the bull calves 18 to 17. Only one milk cow, Tulip calved. The abundance of milk made the weaner pigs-hogs, allowed the kittens to flourish and put weight on the bum lambs – not to mention attracted the skunks at feeding time.
Guest Season 2018: The highlights of a guest business can be summarized as re-connecting with familiar friends and making new. In 2018, we not only welcomed back many of our regulars but also had The Ripple Family Reunion, a group of approximately 22 with ages ranging from 10 months to 50 plus. It was a busy week with horseback riding, cattle sorting, fly fishing, hikes, off- ranch excursions and lots of visiting.
Photography Workshop 2018: Karen Schulman and assistant, Joni Potekhen presented the 7th Photography and Personal Vision Workshop at Focus Ranch. It was a wonderful and creative week with 8 participants. The workshop consisted of classroom time as well as field work and off ranch photo shoots as they explored museums and the natural surroundings. The participants did a presentation of their work on the last night here which inspired as well as delighted us in the images they captured through a lens! We look forward to the 2019 workshop!
Staff of 2018: What makes the cattle and guest business successful are the people who join us for the season to work, learn, explore and contribute to Focus Ranch hospitality for our guests. Every season is different and some more challenging than others in securing the right individuals for the job. It doesn't matter that we have been hiring people for over 40 years and have a lot of experience. There are times when the individual does not fit the job or the job does not suit the individual or things just don't work out. After a rocky start in 2018 we ended up with a great crew and were happy that our guests thought the same. It is always hard to say goodbye on the last day and to know that in a few months the process of hiring will begin again. Still, we have many long term friends amongst our employees and know that there will be more opportunities for new friendships with the next crew.
Projects Completed in 2018:
We all can identify with "to do lists" and the satisfaction that comes with a completed job. This past year we undertook several projects that ranged from top priority to routine maintenance. A few examples:
Painted the Cattle Corrals
Built a new stretch of fence along the road in the East Bench
Built a new stretch of fence against the river in the lower Meadow
Painted the Garage Doors
Painted the exterior doors on the Ranch House, Apartment and Reidy Home
Pulled out Willows in Lower Meadow to allow for better water flow through the ditch
Cleaned out ditches and ponds
Pulled out trees in Horse Pasture
On The Horizon….2019:
Begin Calving in April
Employees arrive May 1st
Yearling Cattle Will Arrive mid-May
Cattle trailing to forest pastures beginning late May/June and throughout summer
Guest Season Starts June 2nd
Personal Vision and Photography Workshop June 23rd to June 29th
Fly Fishing Clinic with Wayne Beverly July 7th to July 13th
Cattle gathered and sorted before shipping usually end of July/early August
Begin shipping cattle in August
Riding for strays in August and September
Our guests are the driving force behind the plans we make and the pleasures to be experienced throughout the year. We continue to value our membership in The Dude Ranch Association and feel their endorsement is also meaningful to our guests. We have also appreciated the reviews of our guests on Trip Advisor and encourage you to review us if you haven't already. These reviews are important to first time visitors.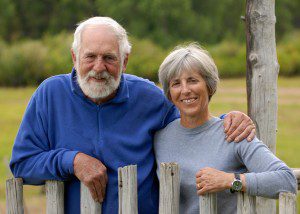 We send you our best wishes for a joyful and peaceful Holiday Season. As always, we enjoy hearing from you and would enjoy even more, seeing you when the snow melts and the grass is green.
Terry and Maureen